Children's Hospital Los Angeles is one of the nation's leading pediatric hospitals. True to our mission, we have been creating hope and building healthier futures since 1901.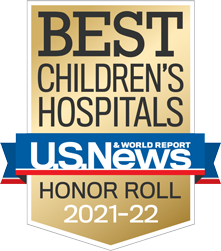 We deliver a level of care that's consistently recognized as some of the best in the world.
Award-winning pediatric services at Children's Hospital include a safe, comfortable experience for your entire family. From child-sized equipment to unique amenities and care focused on your family, CHLA is a trusted destination for your infant, child or teen.
CHLA Is a Premier Children's Hospital
We believe every child deserves the best care possible. This is why we're building a network of people and places across Southern California—so more children can get the care they deserve in more than 350 specialty programs and services. At our Sunset campus, specialty care centers and other locations, we work with you to determine the best care plan for your child.
We share our standards, knowledge and people with experienced care partners to ensure that more children receive high-quality, specialized pediatrics. Through collaborative patient care and research, we're working to give every child a healthier future.
We offer today's best therapies, including advanced options you'll only find in select programs worldwide. Our commitment to high-quality pediatric care has earned our programs national recognition. And we are honored to be part of a vibrant community that values partnership, diversity and giving back. Find out more about our institution, including its history, affiliations and philanthropy.
Our comprehensive approach ensures that your child is cared for, regardless of your circumstances, and makes that care as accessible and convenient as possible. Get more information for patients and families.